of the future, the past, weight loss, size 10, school and whatever else we've been talking about......
Have you heard about the new weight loss procedure--which is not a surgery--called
Transoral Gastroplasty for the Treatment of Morbid Obesity (TOGA®)?
Although I didn't see the story GMA aired this week,
here is what's at their website about it.
Isn't it great what a little education can do to solve a problem? No wonder I sent my kids to school!
I'm happily amazed at the number of smart, creative, highly educated and compassionate people and the amount of funding that is devoted to obesity research and weight loss surgery.
Even though I'm all for other weight loss and weight management tools, weight loss surgery is what changed
my life
. And, I am ever grateful for the opportunity that was made available to me. Because of that, I wholeheartedly encourage anyone out there who truly wants to change their life by getting healthy, feeling better and looking better to talk to their doctor about the options available--whether it be a medically supervised weight loss plan or surgery. I know it's a tough conversation to have! And, I will not promise you that any of it will be
a piece of cake
. But, what I can promise you is that if you do decide to change this aspect of your life--no matter how you do it--I am right there with you. Now that I have successfully raised two children and got them both out of high school (yes, I'm still crying!)--I should have much more time on my hands.......

You've got a friend in Pennsylvania......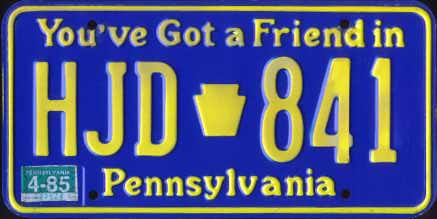 (ooooh, now I'm crying even harder.....this license plate is from 1985--the year my son was born!!!)